~Now Available from Tri-State Antiques~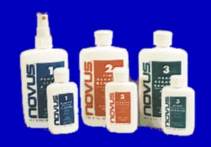 The best polish for Lucite Purses!
A hobbyist recently told us about a wonderful polish for plastics made by Novus. After trying a sample for ourselves, we were so amazed by the results that we just had to offer it to our customers. This fantastic polish comes in three different grades to buff out scratches from plastic, and it works miracles on lucite purses. It literally makes surface scratches disappear and restores a luster and sheen that is like new. Even just a worn looking purse can be restored to a near new look with this polish. You will be thrilled with the results!



NOVUS #1 - CLEAN & SHINE

Gently cleans all plastics without scratching. Leaves a lustrous shine that resists fogging, repels dust, and eliminates static.


Resists finger marking
Contains no abrasives or harsh chemicals
Leaves a smooth, clean, greaseless shine



NOVUS #2 - RESTORE & REFINISH

Removes fine scratches, haziness and abrasions from most plastics. With repeated use, NOVUS No. 2 restores faded and discolored plastics.


Removes the damage instead of filling it in
Buffs out quickly
After restoring, seals with a coat of polish
NOVUS #3 - REPAIR & PREPARE

Removes heavy scratches and abrasions from most acrylic surfaces. Use when damage is too severe to be restored with NOVUS No. 2 polish.


Requires use of NOVUS No. 2 for final finishing
Not recommended for use on coated plastics

Complete Set
$45 delivered*

OUT OF STOCK

NOVUS KIT - Set of All 3

Kit includes an 8-oz. bottle each of Novus #1, #2, and #3 to take care of all your repair and polishing needs in one kit. Individual bottles available only in quantities of 3 or more (call to order).
*Applies to Continental U.S.A. only.
International orders will be calculated and
emailed to you for approval prior to processing your order.
For instructions on using Novus polishing products, click here.



Select Your Category:

Tri-State Antique Center
47 W. Pike
Canonsburg,Pa. 15317
724-745-9116
Visit one of our Many Other Departments:

Copyright © Tri-State Antique Center