SSL

47 W. Pike, Canonsburg, PA 15317
Phone: (724) 745-9116
Fax: (412) 291-1367
Contact Us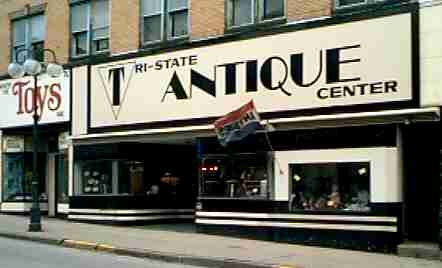 ANNOUNCING OUR RETIREMENT AND STORE CLOSING
After 34+ years, Ed and I are finally retiring and will be closing our brick and mortar store. With as much inventory as we have, this will take some time to effect but we have begun and have reduced prices throughout the store. However, Ed will continue to sell to his modern customers through our warehouse location and Kathy will continue to sell her lady's vanity items (compacts, purses, all lady's vanity items) on the website just like before.
Items on our website which are not on sale are available at a discounted price but if shipping is included, that would have to be added back to any lowered price. Please feel free to call the store or email us if you have a specific item in mind. Or if you are close enough, PLEASE come in to the store as we have thousands (literally!) of items that are not on our site.
As items sell here in the store, we will be replenishing from our warehouse and stock rooms with items that have never before been shown in our store or on the net.
When will we officially close the doors? Well, that depends. We have a lot of stuff to move but we plan to be as expeditious as possible to not drag it out too long. So while we cannot give an exact date or be held to a timeline, we feel safe to say by next summer at the latest. At least I hope!
Thank you one and all for your patronage for all these years. And remember we will continue to sell to our customer base just in a little different way :-)
Kathy & Edward
Proprietors Tri-State Antique Center


TRI-STATE ANTIQUE CENTER™
47 W. Pike
Canonsburg, PA 15317
United States
Phone: (724) 745-9116
Fax: (412) 291-1367 - 24 Hours
Email: Info@tri-stateantiques.com

(Top)

This page is copyright protected and may not be reproduced
in whole or in part without express written permission of Tri-State Antiques.

Copyright © Tri-State Antique Center™